The Alpine Grove Romantic Comedies by Susan C. Daffron are a series of romance novels set in the fictional small town of Alpine Grove.
The readers who seem to enjoy the Alpine Grove novels the most are women who have a sense of humor, like animals, and prefer sex scenes that just fade to black (not 50 shades of anything). If you look at the reviews of the books on Amazon.com, you'll see in that people tend say things like, "it's a good book for lovers of  light reads, chick lit, light romance and animal stories…"
The Alpine Grove novels include: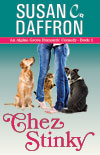 Book #1 – Chez Stinky: Kat Stevens is a slightly insecure, mostly bored technical writer who likes her cat a lot more than her boss. She hasn't laid eyes on her great aunt Abigail since she was eight, so she's stumped when… [read more].


Book #2 – Fuzzy Logic: Librarian Jan Carpenter likes things just so. Nestled in her tidy little cottage on the outskirts of the small hamlet of Alpine Grove, she enjoys her quiet life with her friendly, rotund black lab, Rosa. Jan's orderly life is turned upside down when…  [read more].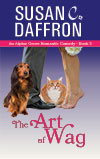 Book #3 – The Art of Wag: With the exception of a few failed forays into higher education, Tracy Sullivan has lived her entire life in the small town of Alpine Grove. When she is fired from her hostess job, Tracy hits… [read more]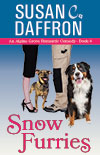 Book #4 – Snow Furries: After a life-altering setback destroys Rebecca Mackenzie's career, she jumps at the chance to start over as a real estate appraisal trainee in her uncle's office. Although a job change had been in order, being the… [read more]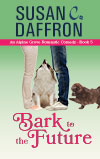 Book #5 – Bark to the Future: Growing up in the small town of Alpine Grove, Beth Connelly was the weird, shy kid who hid in the back room of her mother's bookstore. But all that study time among the books led to being … [read more]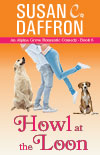 Book #6 – Howl at the Loon For Robin Sanders, her new job and the employee discount at the Eagle River catalog is great for her closet, but bad for … [read more]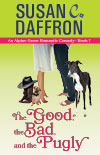 Book #7 – The Good, the Bad, and the Pugly After a freak shopping cart accident, Brigid Fitzpatrick takes stock of her life and wonders what happened. Determined to reinvent herself, Brigid sells … [read more]



Book #8 – The Treasure of the Hairy Cadre For elementary school teacher Sara Winston, being a camp counselor is the ideal summer job, if only she can … [read more]



Book #9 – The Luck of the Paw After years of lousy luck, karma finally gives Mia Riggins a break. The arrival of a mysterious package of postcards and lottery tickets results in … [read more]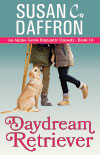 Book #10 – Daydream Retriever To Lisa Lowell, it seems like her life is defined by all the things she isn't anymore. She's not a … [read more]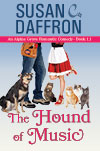 Book #11 – The Hound of Music Tess Mitchell would love to give her regards to Broadway, but so far that plan isn't working out. After bungling … [read more]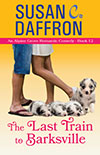 Book #12 – The Last Train to Barksville Carly Buchanan's "happily ever after" takes a nosedive when, after fifteen years of un-wedded devotion … [read more]



Book #13 – Who's Afraid of Virginia's Woof? Tori Merrill detests Halloween. All the fake blood, creepy crawlies, and ghastly ghoulies make her … [read more]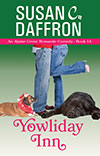 Book #14 – Yowliday Inn Since the accident that killed her fiancé, Erin Quinn's life has been on hold. Locked in … [read more]


More Alpine Grove…
Susan is busy working on the next Alpine Grove novel, so stay tuned!
You can learn more about the Alpine Grove series on these pages: