Find out what's happening in Alpine Grove when you check out…
Who's Afraid of Virginia's Woof?
An Alpine Grove Romantic Comedy (Book 13)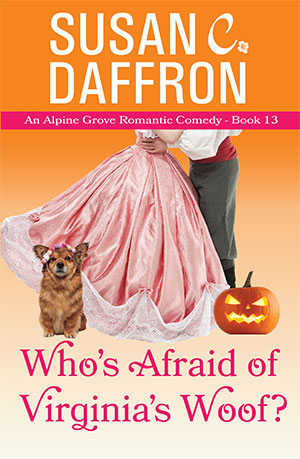 About the book
Tori Merrill detests Halloween. All the fake blood, creepy crawlies, and ghastly ghoulies make her squeamish. But as a partner in a new candy business, Halloween is a holiday she can't ignore. When her partners encourage her to attend the local Haunted Barn event and hand out candy samples to trick-or-treaters, against her better judgment, she agrees. But first, she has to convince someone to care for her spoiled, cranky dog, Ginny–preferably someone who has never heard Ginny bark.
Scarred by long-ago events, Dale Holbrook has made a point of avoiding anything to do with his family's toy business with two exceptions: he voices the company mascot, Harvey the Penguin, and he helps with the Haunted Barn because it benefits his family's charitable foundation.
Decked out in a grotesquely pink Little Bo Peep outfit at the Haunted Barn, Tori crashes headlong into Robin Hood, Zorro, and Holbrook family dramas. Amid grisly gnomes, creepy clowns, chainsaw-wielding zombies, and barfing dragons, Tori confronts her long-held beliefs about Halloween, hoop skirts, truth, and love.