Like romantic comedy and fun beach reads? Love stories that feature quirky dogs and cats? Check out…
Chez Stinky
An Alpine Grove Romantic Comedy (Book 1)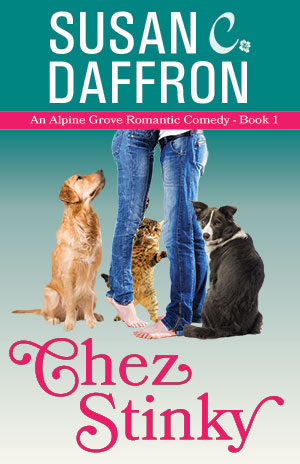 About the book
Kat Stevens is a slightly insecure, mostly bored technical writer who likes her cat a lot more than her boss. She hasn't laid eyes on her great aunt Abigail since she was eight, so she's stumped when she inherits Abigail's house in the small hamlet of Alpine Grove.
Kat's uncomplicated life gets decidedly less so when she discovers the inheritance comes with some hairy conditions: four dogs and five cats that her aunt wanted her to love as her own. Of course, the house smells like a barn — with a touch of antique skunk — and, naturally, has serious roof issues. And that's before the three-legged cat gets stuck in the wall and the shower goes kablooey.
When Kat meets Joel, an unemployed techie type with no love lost for his sister, Kat looks past his obvious flaws, given his timely and desirable skill set: a talent for fixing things (and his own tools).
Despite out-of-control dogs, cat fights, dust dinosaurs, massive spiders and an old grizzled hippie passed out in the yard, Kat discovers the tranquility of the forests of Alpine Grove starting to seep into her soul.
And why she can't she stop thinking about Joel?
Sign up for Susan's Book Release Notices and be the first to find out when new books are available!