Enjoy the holidays in Alpine Grove when you check out…
Yowliday Inn
An Alpine Grove Romantic Comedy (Book 14)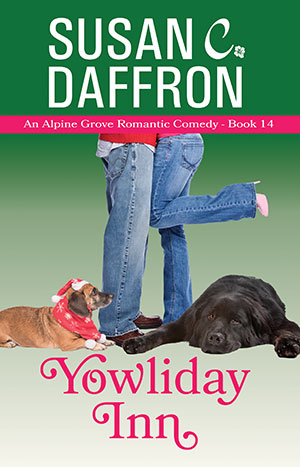 About the book
Since the accident that killed her fiancé, Erin Quinn's life has been on hold. Locked in grief, she's in no mood to embrace holiday cheer, but she runs out of excuses to avoid her family when her parents send her a plane ticket so she can spend the holidays with them in Alpine Grove.
Erin hasn't been back to her hometown in more than two decades. And she never tells anyone that until she was twelve she lived in a hippie commune with no electricity or indoor plumbing. The years at the Dancing Cedars commune was a drama-filled part of her past she's worked hard to forget.
When her childhood friend Dylan Bryant picks Erin up at the airport, the past starts to catch up with her. Since the commune disbanded, he's been working at his family's Christmas tree farm, a place chock full of elves, twinkle lights, questionable baked goods, and family crises. Sure, he might be three feet taller than the last time she saw him, but Dylan's offbeat personality hasn't changed. Neither has his ability to see through her defenses.
At an eccentric Thanksgiving gathering, everyone discovers the old Hodgepodge Lodge at Dancing Cedars is filthy and overrun with feral cats–and maybe a skunk. Against her better judgment, Erin agrees to help Dylan clean up and repair the abandoned log structure, which has more holes than a cheese grater.
In between bizarre dreams filled with oversized Santa possums and jingle bears, Erin reconnects with Dylan and finds herself increasingly drawn to the timeless serenity and beauty of the Dancing Cedars property. But when a developer makes a play for the land, they might need a miracle to save it.