Logical Tips for Mastering Your Computer
Quick Shortcuts, Tips, Tricks, and Techniques to Help You Use Your Computer More Effectively
Go from Computing Newbie to Power User!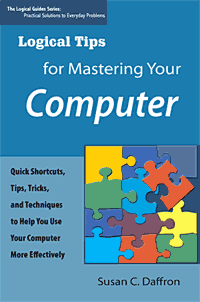 A computer is supposed to help you get more work done in less time. But if you don't know how to use your computer efficiently, it can turn into a frustrating time sink instead. Crashes, software problems, and hardware incompatibilities can make your computing experience unpleasant at best and infuriating at worst.
If you take a little time to learn a few computing tips and tricks, you'll feel more confident in no time. And the good news is that all the information you learn builds on itself.
Logical Tips for Mastering Your Computer is packed with helpful tips on productivity, fonts, peripherals, graphics, hardware, printing, and troubleshooting.
You'll learn how to:
Get a decent scan out of your scanner.
Figure out where those elusive downloaded files really ended up.
Get your photos off your camera, create online albums, and email your photos the right way.
Get your inkjet printer to print again when it refuses to operate.
Find answers when you get "stuck."
And much more…
Logical Tips for Mastering Your Computer
Order from Amazon.com.
ISBN: 978-0-9749245-4-0
LCCN: 2007909557
Important NOTE: This book was updated and revised when it was published, but the tips may not apply to newer hardware that works with operating systems newer than Windows XP.