Power User Secrets Revealed!
Quick Shortcuts, Tips, Tricks, and Techniques to Help You Use Your Computer and Software More Effectively
For more than seven years, Susan Daffron delivered helpful computing tips to subscribers of the weekly Logical Tips Newsletter. The articles were also syndicated in newspapers and online.
Now the tips have been updated, revised, and compiled into four books, so you can keep this valuable information right at your fingertips!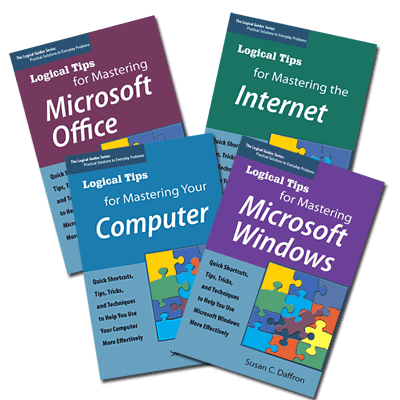 Click the "Logical Tips" menu links to see more information about a specific title. These books will help you improve your computing experience in ways you never imagined!
IMPORTANT NOTE:
The books have been updated and revised for use with Windows XP and Office 2003. Many of the tips also work with older versions of Windows and Office, but the books do not include tips specific to Windows Vista, Windows 7 or Office 2007/10.