Logical Tips for Mastering Microsoft Windows
Quick Shortcuts, Tips, Tricks, and Techniques to Help You Use Microsoft Windows More Effectively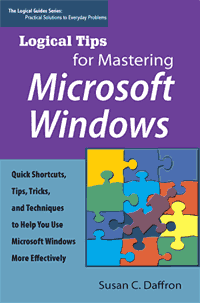 Combat Windows Weirdness!
Computers are supposed to be easy, but somehow in the effort to make things "pretty" and "simple" Microsoft has hidden some fundamental computing issues from unsuspecting users. The result is that using Windows often seems a lot more difficult and mysterious than it should be.
Windows really isn't that complex, however. Once you understand a few core concepts and learn how to customize Windows to work the way you want, your productivity will skyrocket. Logical Tips for Mastering Microsoft Windows is filled with Windows file management, productivity, customization and troubleshooting tips.
You'll learn how to:
Use the most powerful keyboard shortcuts to save tons of time.
Get the most out of your desktop shortcuts.
Tweak your display settings so Windows looks the way you want (not the way Microsoft wants).
Fix problems with file associations, folder views, and bizarre sort order problems.
Use Windows to send faxes, burn CDs, compress files, and run programs automatically.
And much more…
Logical Tips for Mastering Microsoft Windows:
Order from Amazon.com.
ISBN: 978-0-9749245-7-1
LCCN-2007909560
Important NOTE: This book has been updated and revised for use with Windows XP. Many of the tips also work with older versions of Windows, but the book does not include tips specific to Windows Vista or newer version of Windows.