Logical Tips for Mastering the Internet
Quick Shortcuts, Tips, Tricks, and Techniques to Help You Use the Internet More Effectively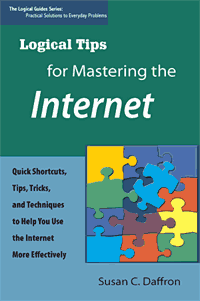 Go from Internet Newbie to Expert!
Although the Internet is part of many people's lives these days and can be incredibly useful, all the strange acronyms and terms can be discouraging, particularly when you are first getting online. Plus, dealing with spam, hackers, and the online vermin that dwell in cyberspace can be stressful.
Like anything else, the Internet has customs and terminology that you need to understand to get acclimated online.  Armed with information, you can stay safe and keep your email under control and running smoothly.
Logical Tips for Mastering the Internet  has advice on topics ranging from netiquette and email to Web browsers, security, and creating your Web site.
You'll learn how to:
Keep your computer safe to avoid viruses, phishing, online scams, and malware.
Work with your email, with tips on organization, attachments, and pictures.
Deal with the endless barrage of spam that hits your inbox.
Speed up your browsing experience.
Register a domain and find Web hosting.
And much more…
Logical Tips for Mastering the Internet:
Order from Amazon.com.
ISBN: 978-0-9749245-5-7
LCCN-2007909558
Important NOTE: This book was updated and revised when it was published, but the tips may not apply to newer browsers that run on operating systems newer than Windows XP.