Logical Tips for Mastering
Microsoft Office
Quick Shortcuts, Tips, Tricks, and Techniques to Help You Use Microsoft Office More Effectively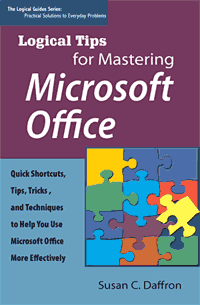 Don't Let Microsoft Office Drive You Crazy!
Software can – and will – drive you crazy, including the most popular software of all: Microsoft Office. The information in Logical Tips for Mastering Microsoft Office is designed to help you deal with the type of weirdness Microsoft Office can dish out. Because many people use Word the most, you'll find more tips on Word than any of the other Office programs. However, the book has helpful hints for Excel and PowerPoint as well.
Logical Tips for Mastering Microsoft Office is packed with Word, Excel, and PowerPoint tips that can help you get the most out of Office, so you can get more work done in less time.
You'll learn how to:
Add page numbers and make sense of Word's headers, footers, and sections.
Speed up with powerful Word style controls.
Customize Office programs so they work the way you want (not the way Microsoft wants).
Solve spreadsheet mysteries like the cryptic row of pound signs (#####).
Get text into your presentations more quickly.
And much more…
Logical Tips for Mastering Microsoft Office:
Order from Amazon.com.

ISBN: 978-0-9749245-6-4
LCCN-2007909559
Important NOTE: This book has been updated and revised for use with Microsoft Office 2003. Many of the tips also work with older versions of Office, but the book does not include tips specific to Office 2007 or later versions.