Learn the Secret Techniques and Tools the Photoshop Pros Use!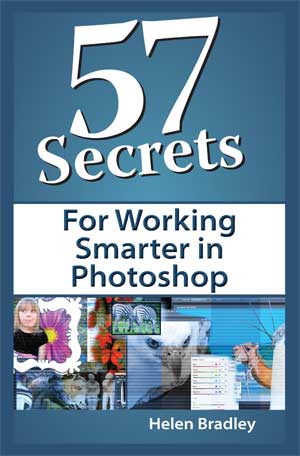 When you use Photoshop, do you ever feel like everyone must know something you don't? Imagine how much more productive you could be if you knew all those secret techniques and tools that Photoshop professionals use to do their work.
Discover how to:
Replace a sky easily without selecting anything
Fill text with a photo, yet still be able to edit the text
Quickly clean up stray pixels in scanned line art
Create cool effects like sunbursts and then use them for backgrounds and pattern fills
Resize and reshape an image without using the Crop tool
Get practical advice, along with creative ideas, to help you get the most out of Photoshop!
57 Secrets for Working Smarter in Photoshop costs only $14.95 and you can order it from Amazon and other online retailers:
Order from Amazon.com now
NOTE: The book is also available from many other online booksellers; just do a search on your favorite site using the ISBN below.
ISBN:

978-1-61038-010-2 (Paperback)
978-1-61038-011-9 (EPUB)
About the Author:
Helen Bradley

Helen Bradley is a lifestyle journalist who divides her time between the real and digital worlds. She writes tutorials, how tos, tips and tricks and produces video instruction about Photoshop, Lightroom, and digital photography for magazines and online providers. You can read more about Helen on her
57 Secrets author page or visit her online at her blog: www.projectwoman.com.