Learn the Secret Techniques to Help You Finally Get Organized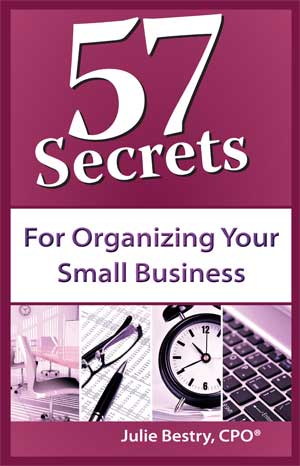 Disorganization in your small business costs money. Because time is money, every moment you spend looking for missing information, redoing lost work, and coping with interruptions takes you away from more lucrative activities. Armed with the 57 organizing secrets in this book, you can save time, grow your profits, reduce your stress, and increase your productivity.
Discover how to:
Save your sanity by joining the clean desk club.
Eliminate the tiny fragments of paper and mountains of sticky notes that threaten your productivity.
Create a streamlined information-capturing system and organize files so they work the way you do.
Prioritize key tasks and delegate efficiently.
Manage your time, set up boundaries, and prepare for the unexpected.
Get practical advice and creative ideas that will help you organize your space, time, thoughts and business systems, so you can focus on what you do best
57 Secrets for Organizing Your Small Business costs only $16.99 and you can order it from Amazon and other online retailers:
Order from Amazon.com now
NOTE: The book is also available from many other online booksellers; just do a search on your favorite site using the ISBN below.
ISBN:
978-1610380218 (Paperback)
What People Say about the Book:
"Bestry's book is bursting with all sorts of useful, relevant information relating to organizing a small business. Plus, best of all, it's pure Julie—entertaining, engaging and enlightening. It's an easy-to-read book that I'll be sharing with clients and colleagues."
~  Geralin Thomas, Professional Organizer, Metropolitan Organizing; TV Personality (Hoarders, The Nate Berkus Show)
"Gadgets, apps and cloud services can be the safe harbor that keep you prepared and responsive or raging oceans that sweep around your personal and business affairs. Regardless of which parts of your life have gone digital, though, Julie Bestry offers countless concise and comprehensive recommendations to make for smooth sailing."
~  Ross Rubin, Principal Analyst, Reticle Research; Consumer Technology Specialist
"There's no Professional Organizer out there with a more thorough and complete knowledge of hands-on business organizing technique than Julie Bestry. Through her weekly "Paper Doll" blog, Julie regularly provides readers with a wealth of information on creating systems for managing information, setting up functional office workspaces, and improving productivity. But 57 Secrets For Organizing Your Small Business offers the perfect platform for someone with such vast expertise on a wide variety of topics—everything from filing and records retention, to backing up your computer and getting home on time, to financial management and packing for travel. Julie's writing style is clear, concise, easy-to-understand, and (most importantly) entertaining. This is a book you'll refer back to over and over again throughout the life of your business."
~ Ramona Creel, Author of The A-To-Z Of Getting Organized and The Professional Organizer's Bible
About the Author:
Julie Bestry

Julie Bestry is a Certified Professional Organizer® and president of Best Results Organizing in Chattanooga, Tennessee. Julie has a passion for inspiring good organizing skills and systems with patience and humor. She motivates her overwhelmed clients with the motto, "Don't apologize.  Organize!"  You can read more about Julie on her 57 Secrets author page or visit her Web site:
www.JulieBestry.com