Learn Secret Online Branding Techniques to Help You Stand Out!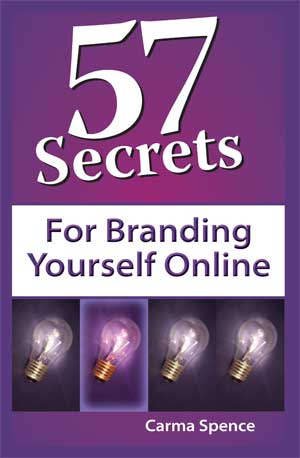 Branding is the process of identifying you, your product, or your service and making it stand out from the competition. But a brand is more than an identity; effective branding can help you establish an emotional connection with your target market. In this book, learn how you can use the power of the Internet to brand yourself online.
Discover how to:
Create a clear vision for your brand
Develop a memorable tagline
Use your Website and online content to reinforce your brand
Establish your expertise with creative products and services
Take advantage of social media, audio, and video to build your brand
And much more…
Get practical advice and creative ideas that will help you and your business stand out online.
57 Secrets for Branding Yourself Online costs only $14.95 and you can order it from Amazon and other online retailers:
Order from Amazon.com now
NOTE: The book is also available from many other online booksellers; just do a search on your favorite site using the ISBN below.
ISBNs:
978-1-61038-012-6 (Paperback)
978-1-61038-013-3 (EPUB)
About the Author:
Carma Spence

Carma Spence is a multi-dimensional entrepreneur, science-fiction writer, and poet with more than 20 years of experience in marketing, public relations, and science communication. You can read more about Carma on her 57 Secrets author page or visit her Web site: www.CarmaSpence.com.