Meg, Riley and Zelda's story continues in…
Sensing Secrets
A Jennings & O'Shea Novel (Book 2)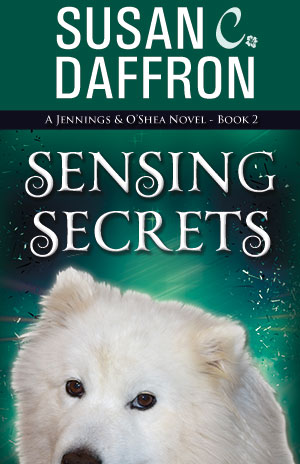 Sometimes the journey of life takes a few strange turns.
Meg Jennings used to be a reporter, but now she's a fugitive hiding out at a lakefront rental in the small town of Alpine Grove, waiting for the heat to die down.
Meg shares the house with Riley O'Shea, who may or may not be her stepbrother, and his dog, Zelda. When Meg is zapped by a woman with a stun gun and thrown into a van, everything changes. Although getting to Alpine Grove was complicated, getting out might be worse.
Faced with difficult choices, Meg and Riley end up on a journey to find a mysterious retreat located somewhere in the Northwest. The trip takes them from tiny hamlets to big cities where they encounter everything from digestively challenged buzzards to tone-deaf musicians dressed like Klingons having a fashion disaster.
Sensing Secrets is Book #2 in the Jennings and O'Shea series. The correct reading order is: