Meg, Riley and Zelda's story continues in…
Sensing Others
A Jennings & O'Shea Novel (Book 4)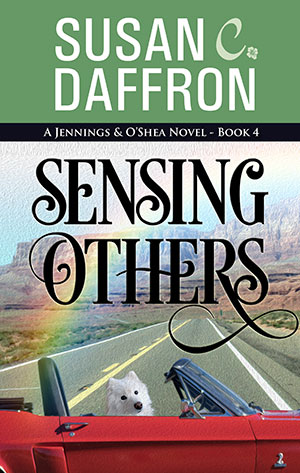 The worst thing about vacations? They end.
Meg Jennings, Riley O'Shea, and their fluffy dog Zelda are enjoying a much-deserved vacation on an idyllic private island until their tropical respite is disrupted by a suspicious fire nearby. An even more suspicious case of food poisoning compels them to flee to the mainland.
The retreat where Meg and Riley went undercover is now a refuge for people having difficulty adapting to their abnormal sensory abilities. When manager Shannon Soloman disappears, Meg and Riley succumb to parental pressure and return to the retreat to help find her. There they meet two secretive agents aiding in the search for Shannon. The agents have no sense of humor and even less fashion sense. They also are inexplicably fixated on the necklace Meg is wearing and have a disturbing habit of turning up everywhere.
From rain-soaked forests to the sun-drenched deserts of the southwest, following the clues to finding Shannon and clearing her name takes Meg and Riley from roller rinks to rodeos. Ferreting out the truth will require trusting their instincts and special skills, along with more than a little luck.
Sensing Others is Book #4 in the Jennings and O'Shea series. The correct reading order is:
Find out when my books are released!
If you'd like to know when I release new books (and even get a VIP discount), use the subscribe form below to be notified by email.
When you sign up, you also get a free download with "Special Features" from the first novel in my Alpine Grove Series Chez Stinky. It includes an excerpt from the novel, an unpublished scene and a "gag reel" with quotes and photos of what I think the characters might look like.
After you submit the form, you have to verify your subscription. You will receive a one-time email from MailChimp with a link you must click to "activate" your subscription. This extra level of security prevents anyone else from signing you up without your permission.
Change your mind?
You can unsubscribe from this list at any time. It's easy. Just click the unsubscribe link provided at the bottom of every email.