The Jennings & O'Shea novels by Susan C. Daffron are a series of mystery novels that follow the adventures of Meg Jennings, Riley O'Shea, and Riley's dog, Zelda.
Like the Alpine Grove romantic comedies, the Jennings and O'Shea novels include dogs and a fair amount of humor. Although Meg and Riley have adventures, there is no blood, gore, or bodies being shot up. The readers of Susan's books tend to be women who have a sense of humor and like animals. If you look at the reviews of Susan's books on Amazon.com, you'll see that people tend to say things like, "it's a good book for lovers of  light reads, chick lit, light romance and animal stories…"
The Jennings & O'Shea novels include: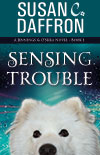 Book #1 – Sensing Trouble: So far, 1997 has been a spectacularly bad year for reporter Meg Jennings – and it's only March. Uncontrollable, debilitating visions have forced her to give up driving and take a leave of absence from her job. When her mother demands that she visit without explaining why, Meg sets aside her worries and heads for the small town of Alpine Grove. But her arrival is greeted by…[read more].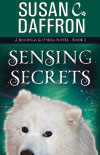 Book #2 – Sensing Secrets: Meg Jennings used to be a reporter, but now she's a fugitive hiding out at a lakefront rental in the small town of Alpine Grove, waiting for the heat to die down. Meg shares the house with Riley O'Shea, who may or may not be her stepbrother, and his dog, Zelda. When Meg is…[read more].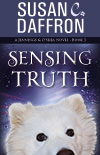 Book #3 – Sensing Truth: Meg Jennings has been on an adventure of a lifetime with Riley O'Shea. Together, they've uncovered some secrets and solved some mysteries, so they have a better understanding of why…[read more].


Book #4 – Sensing Others: Meg Jennings, Riley O'Shea, and their fluffy dog Zelda are enjoying a much-deserved vacation on an idyllic private island until their tropical respite is disrupted by a…[read more].