Vaetra Untrained: Book Two of the Vaetra Chronicles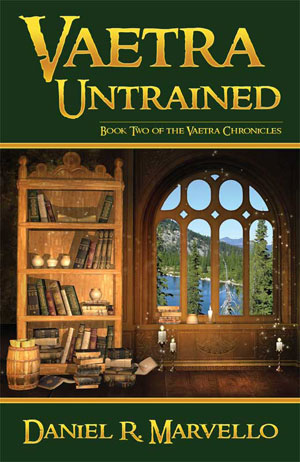 Former innkeeper Jaylan Forester follows lovely sorceress Sulana Delano to the Archives College of Sorcery where he learns to use the magical power of vaetra. While Jaylan adjusts to life at the largest sorcerer sanctuary in the empire, Sulana investigates the clues left behind by their mutual enemy Paeter Thoron. When Sulana and her team are captured and held for an impossible ransom, Jaylan must decide if he will obey the will of the Archives Council and wait through the negotiations, or if he will risk everything in a desperate attempt to rescue the woman he loves.
Vaetra Untrained is a magical fantasy adventure of approximately 99,000 words/384 printed pages.
Vaetra Untrained Ebook Edition
Get the Kindle edition at Amazon.com (UK, DE, CA, AU)
* For non-Kindle editions, please contact us.
Get the Vaetra Untrained paperback at these retailers
What readers have said
"I don't usually have a chance to write about a book I have just read, but I felt that this book deserved the time & praise. I simply can't wait for the final book."
~ Simone Edmonson (Amazon.com review)
"I like this series and am looking forward to the next book. I really hope it is not another year in the making..you kept them coming and I will keep reading them. Thanks… Nice cape"
~ "tatemjr" (Amazon.com review)