Attention Vegans and Vegetarians: Are you having trouble figuring out what to make for dinner tonight?
Sit Down to a Delicious Healthy Vegan Meal in as Little as 15 Minutes
Vegan Success is the Cookbook You Can Turn to When You Need to Get Dinner on the Table Fast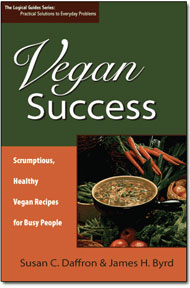 Every day, you have to answer that eternal question: what's for dinner? But if you are vegan, you can't just zoom through the drive-through for the quick solution. (Sure, it was fast, but was it food?)
As a vegan, you don't eat any animal products – no milk, cheese, eggs or meat. So when you are trying to figure out what's for dinner, you can't just zap a microwave meal or rely on mainstream fast food joints to get you out of a jam.
Vegan Success includes only our most tried and true, select recipes that actually work. These recipes don't require 17 different steps and two days of cooking. They are uncomplicated, unpretentious, and are easy enough for every day.
Vegans, vegetarians, non-vegetarians, cooks and non-cooks have all enjoyed the recipes in Vegan Success.
Check out what our readers and the press have said about the cookbook.
Whether or not you are vegan, you might have resolved to "eat healthier." Maybe for the first time, you have to actually think about cooking up food yourself. Maybe you've been dreading meal times because:
What if you could create mouthwatering vegan dishes every night? The type of real food that is great for your body and good for your soul.
Experience the Joy of Eating Healthy Vegan Food
Few things are as enjoyable as sitting down to a luscious dinner filled with food that's just bursting with flavor. If you are facing yet another evening staring at a bland baked potato or tedious salad, imagine taking that dull spud and turning it into…
…Vegan Stuffed Potatoes. In this luscious recipe, baked potatoes are married with vegan cream cheese, baby spinach, tomatoes, and just four spices to create a creamy medley of flavors.
Or you might sit down to this meal…
…Pasta with Spicy Sesame Vegetables. In this dish, the subtle scent of sesame oil mixed with garlic floats through the air as you spear your first piece of ziti with your fork. The tahini in the sauce lends a creaminess that coats the sugar snap peas, tofu and other vegetables with flavor.
Neither of these recipes is difficult. And they are both in Vegan Success: Scrumptious Healthy Vegan Recipes for Busy People.
See for Yourself What's in the Book
Check out a PDF file that contains the table of contents and the first chapter (511K). The table of contents lets you see the complete list of the recipes in the book (because it's a PDF file, you need the free Acrobat Reader to view it).
Vegan Success is chock full of a whole bunch of delicious, hearty, satisfying, melt-in-your-mouth good vegan recipes that don't take all day to make, and don't leave you hungry an hour later!
If you're hungry and want to eat now, this is the book for you!
Get Vegan Success Now
Vegan Success

Order from Amazon.com if you read a lot. If you buy other books at the same time, you almost always can save money on shipping by taking advantage of Amazon's Super Saver shipping offer.