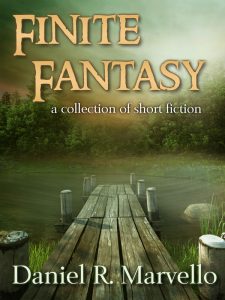 A story doesn't have to be long for it to be engaging and fun. In this collection, Daniel R. Marvello shares fantasy stories that vary from 200 words to 2,600 words. Experience the dark tension of "The Rune" and the thrill of evading a monster in "The Obelisk Portal." The next time you don't feel like wading into another thousand-page fantasy tome, treat your imagination to these short doses of magical fantasy adventure.
This revised and expanded second edition of the collection adds six new stories to the original four of the first edition. Here are short summaries of all ten stories:
The Rune: A scribe struggles to place the final critical stroke on a rune to protect his chamber from a moaning evil.
Sorcerer's Staff: A grieving father bids farewell to his only son after he learns the boy has the potential to become a sorcerer. (Set in Mundia, the Vaetra Chronicles story world.)
Final Exam: For his final exam, a sorcery student must brew a potion that he associates with unpleasant memories. (Features Jaylan Forester, lead character of the Vaetra Chronicles.)
Territorial: A wolf defends his territory from interlopers.
The Sprite of Shady Pond: A young traveler leaps to the rescue of a druid girl who is being accosted by a bandit. (The continuing adventures of Corion, the young man from "Sorcerer's Staff.")
Fairy Dust: A contemplative observer of nature is drawn into the magic of the fairies and their winter dance of the crystals.
The Calling: A druid raises the spirits of a huge field of sunflowers.
Meditations: A student of thaumaturgy completes his assignment in an amusing and unexpected way.
Delivering a Hearse: A quirky undercover agent delivers a hearse to a seductive vampiress.
The Obelisk Portal: A hiker and his two dogs discover danger within a hidden portal to an alternate world.
Finite Fantasy is available in ebook form only; however, you can download it for FREE from these vendors: