Are you looking to turn your fiction or non-fiction manuscript in to a professionally-designed ebook? We can help you with that!
We can produce an ebook for you that you'll be proud to offer to readers on Amazon Kindle, Barnes & Noble Nook, Apple iPad, and more.
How does it work?
You send us your manuscript along with the images you'd like to include and answer some questions about your book. We build an industry-standard EPUB file, which you can sell through most ebook vendors. We'll also build a MOBI file that you can sell on Amazon. Readers will be able to buy and read your ebook on virtually any reading device on the market, from the older Kindle units, to smart phones, to the latest Kindle Fire tablets.
What does it cost?
Pricing generally varies from $100 to $300, depending upon how long your book is, how many unique images you want to include, and whether your book is fiction or nonfiction.
Here are pricing examples for a few sample projects:
| | |
| --- | --- |
| Project Example | Price |
| Non-fiction, 80,000 words, 30 images. | $250 |
| Fiction, 100,000 words, 5 images. | $150 |
| Fiction, 10,000 words, 5 images. | $100 |
What will my book look like?
We will give your book a professional appearance while preserving the nuances of the formatting you've painstakingly put into your content (such as italics, bold, and bullet lists). Here's an example of what one of our own books looks like on Kindle for PC: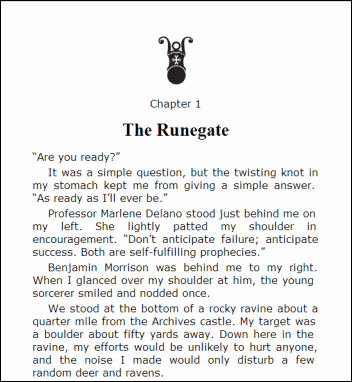 The image above demonstrates some of the following standard features of our formatting:
A page break before every new chapter as well as your front and back matter pages.
A chapter graphic, if you have one. (If you don't have a chapter glyph but would like one, let us know what you have in mind and we can probably come up with something for you.)
A scene break graphic. (Again, ask us if you don't have one but want one.)
Chapter numbering and/or chapter titles aligned left, right, or centered.
Fully variable text sizing so your readers can choose the font size that is right for them.
Indented paragraphs except for the first paragraph following a chapter or scene break.
Support for white text on black background and sepia tone color modes.
A linked table of contents (TOC) within the ebook as well as a "logical" TOC for reading devices that have their own TOC features.
Support for "guide" elements that tell reading devices how to locate the book cover, table of contents, and the first page of text.
We do not use automated conversion tools, so you are not limited to a suite of standard styles. If you have specific ideas regarding how you want your book formatted, let us know and we will try to accommodate you. Your only limitations are what the ebook reading devices impose.
How do I get started?
Submit the form below. We'll review your project and give you an estimate. If the estimate is acceptable to you, we'll have you send us your manuscript, the images you want to use, and some descriptive information (aka metadata) about your book. We'll keep all of your content strictly confidential at all times.
Please tell us about your project:
What if I need changes later?
First, understand that we will make sure you are happy with the files we deliver to you. If we need to tweak the ebook files prior to publication, that's just part of the formatting process. Once you accept the ebook files for publication, the files are finalized and the project is complete.
You get two free "minor revision" changes to your ebook files during the first year after project completion. Minor revisions include spelling corrections, fixing typographic errors, and simple updates to front or back matter. Fees may apply for more significant changes, such as adding new front/back matter pages or making substantial modifications to the book's content.
We do stand by our formatting, however. If readers report any problem with the formatting of your books, please contact us immediately and we will do our best to correct the problem free of charge.
Contact us today using the above form and take the first step toward publishing a professional-quality ebook.