What Readers Say About Publishize
Advance Praise for:
Publishize: How to Quickly and Affordably Self-Publish a Book That Promotes Your Expertise
"Your book will bring you more attention, notoriety and credibility than any other investment of time and money. People will be drawn to you because of your new demonstrated expertise. Remember, the word "authority" contains the word "author." Susan Daffron generously shares her roadmap to turn businesspeople into published authors."
 — Dan Poynter, author of The Self-Publishing Manual,
ParaPublishing.com
"Publishize cuts through the jargon and confusion and gets to the heart and soul of what the industry is about. If you want to be successfully published you must read this book!"
   — Penny C. Sansevieri, CEO Author Marketing Experts, Inc and author of Red Hot Internet Publicity and From Book to Bestseller, www.AMarketingExpert.com
"Susan Daffron eloquently nails the why's and how's of self-publishing in her new book, Publishize. For the corporate executive with no time or energy to devote to traditional publishing; for the business owner who wants a book for the enhanced platform, expert positioning, and media attention it will generate; for the author who doesn't want a large capital outlay or the hassles of storage and distribution issues; and for the pragmatist who doesn't particularly care whether the book is widely available in bookstores as long as there are copies available for sale online and off, this book is a great gift, both for its straightforward explanation of print-quantity-necessary publishing, and for the superb roundup of publicity tactics and how to implement them. I highly recommend it."
   — Fern Reiss, Director of the International Association of Writers, and CEO of PublishingGame.com
"Every business owner has read that publishing a book is a great way to demonstrate expertise and get new clients. But it seems like such a monumental task, most people never do it. Susan Daffron offers honest advice and breaks down self-publishing into manageable steps any business owner can implement."
 — John Eggen, President, The Mission Marketing Mentors, Inc.; www.MissionMarketingMentors.com
More Praise Keeps Coming In!
"I received my copy of the award-winning Publishize a few days ago and have already started to dig in… you make it sound so do-able!"
— Gilda Bonanno, Speaker & Coach (gildabonanno.com)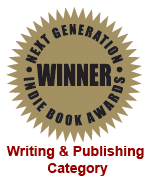 "While at first glance, this may seem like a basic book on how to self-publish, it is more than that. Sure, it provides you with what you need to know in order to enter into the world of self-publishing and marketing, but many of the ideas are designed specifically for the entrepreneur, professional and expert. Not only does the author give you the nuts and bolts of publishing and promotion, but she addresses many of the issues from an entrepreneurial perspective." (Read the complete book review here.)
— Patricia Fry, Small Publishers, Artists & Writers Network Newsletter (SPAWN)
"Susan, your new book, "Publishize" is awesome. This is a great book for anyone looking to write and publish a book. Commonsense info and a great read to boot! It's a good book indeed. Very accessible and readable compared to so many business books."
— Robert Middleton, Action Plan Marketing
"A remarkable book I intend to eat up over and over. Here's
an author who knows how to use self-publishing. This book
focuses on the nonfiction writer with a ready-market and
the experts who need books to enhance their business. As
Susan says, "The key is to think about your book as just
another product in your line-up of business offerings."
Cleanly written, Publishize is a must-have for the
nonfiction writer with a service to sell."
— Hope Clark, Funds for Writers
"Susan
Daffron does an exceptional job of mapping out what could be quagmire
of self-publishing.
Publishize honestly answers questions you might have regarding self-publishing
and other publishing options as well."
   — Lisa Manyon, "Read On" Book Review
Susan, I just got your book today and couldn't put it down. I've already been inspired by it.
You gave me permission to get organized so that I can continue on in my book writing.
Thanks so much for your encouragement and fabulous book!
— Donna Vail, author of forthcoming book An Inspired Education: The Ultimate Guide to Homeschooling Success.
I want to thank you for one of the most informative and well written books that I have ever read. (Since I love to write but hate to read, it would have to be.) I couldn't put it down because it explained step by step how to have your own writing and publishing company all in one. Anyone wanting to self-publish their books or just write a book and market it can learn so much.  I loved the simplicity of the book as well as the information. Your willingness to share your knowledge and experiences is much appreciated.
— Paula A. Jones,
Reaching Upward for the Possible, Inc
More Advance Praise from Publishing and Marketing Experts
"Well-written, honest, pulling no punches, and full of good advice. Read Publishize to make informed and profitable decisions about the entire publishing and marketing process."
 — Shel Horowitz, award-winning author of Grassroots Marketing for Authors and Publishers and six other books; www.GrassrootsMarketingforAuthors.com
"Susan Daffron says she kept all her ideas for books on the shelf for more than ten years. Now, with her book Publishize in hand, you don't have to let that happen to you. With its many-sided portrait of the lifestyle of a small publisher and description of some key details in the process of publishing, your excuses will fall away and you'll feel readier to get started."
  — Marcia Yudkin, Author, 6 Steps to Free Publicity, 3rd edition, and 10 other books, www.yudkin.com
"Susan Daffron takes all the mystery out of writing and publishing a book. But she doesn't stop there! She also offers a lot of help on something that many authors need — information on how to market your book online. Get this book — it will help you publish your book and it will help you promote and sell it online!"
   — Biana Babinsky, Online Business Coaching; www.AvocadoConsulting.com
"The well-organized overview of publishing options in Publishize is not just a helpful snapshot of various publishing choices; Susan Daffron shows readers what has actually worked for her (including marketing tips). I highly recommend this read for anyone who's considering publishing a book. Publishize has found a place on my bookshelf right next to Peter Bowerman's The Well Fed Self Publisher. Now I just have to start writing so I can publish my book!"
   — Lisa Manyon, Professional Copywriter and Marketing Strategist, www.LisaManyon.com
"Geared to the non-fiction writer with a targeted market and to experts who want the prestige of authorship, this guide is quite different from the early books on self-publishing. Publishing a book using print-on-demand technology and selling it using all the copious possibilities of the Internet is the nub of this book. Written in a no-nonsense, clear and logical manner, the book as a whole is a welcome addition to the world of self-publishing books and a great peek into the future of online selling!"
   — Barbara Hudgins, author, Crafting the Travel Guidebook: How to Write, Publish & Sell Your Travel Book;
www.WoodmontPress.com
"What a terrific resource Publishize is for writers like me who want to self-publish."
  — Jean Moroney, President, Thinking Directions, www.ThinkingDirections.com
"Finally! A book on publishing for savvy business owners who are looking to write and market their books on their own dime without breaking the bank. Susan Daffron's step-by-step blueprint guides both new and seasoned authors through the self-publishing process with easily digestible tips and welcomed personal experience, wit and humor (you have to read Chapter 7 to learn how cleaning the closet is like marketing your business!). With nine printed books under her belt, Susan was born to write Publishize. Don't let another day or another excuse prevent you from creating a book that demonstrates your expertise and helps the clients you serve."
  — Maria Pascucci, President & Founder Campus Calm, where students speak out about grades, stress and personal well-being, www.CampusCalm.com
"Susan Daffron takes the mystery out of self-publishing with Publishize. Wondering how to write a book while running your business? Curious about all the benefits that the latest advances in print technology and online marketing offer you as a self-publisher? Want to know what's required for a successful book website? Or how to create additional products — and income — from one book? Publishize covers all this and more in an informative, easy-to-follow format — a real must-read!"
   — Sue Schopp, Copywriter and museum-marketing consultant
www.MoreMuseumVisitors.com
"The degree to which being a published author can boost ones business is astounding yet, so many experts resist the option to self-publish because they're misinformed or don't know how. In Publishize, Susan Daffron delivers straightforward, step-by-step advice and busts the myths that may be holding you back! After reading this book, you will see self-publishing in a new and positive light."
 — Gina Bell, The Networking Maven; co-author, The Power of Mentorship for the Home Based Business and forthcoming author of The Networking Masters to the Rescue series of books
"Publishize is a soon-to-be-author's godsend! Susan Daffron has become my go-to person for publishing insight and now has packed her knowledge and sage advice in this easy-to-comprehend guide. Susan and her superior advice about how to maneuver through the maze of printing and publishing is a must-read for any aspiring author looking to publish a book to use as a big business card."
 — Donna Kozik, founder of My Big Business Card and the Facebook "Write a Book in a Weekend Club"
"If the cost and complexity of printing has steered you away from self-publishing, you'll appreciate the straightforward advice in Publishize. Susan Daffron explains the ins and outs of print-on-demand printing without the subsidy press stigma and offers a great overview of the latest online book marketing methods. I highly recommend this book for all the women writers I serve!"
 — Sheri McConnell, CEO of the National Association of Women Writers